Therapist Bios
Lisa M.G. Wolff, MOT, OTR/L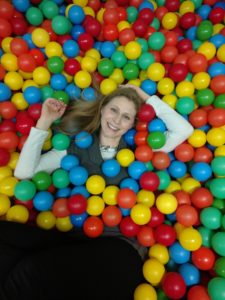 Lisa received her Master's in Occupational Therapy from Pacific University, Forest Grove, OR in 2005. During her student internship at the Easter Seals Children's Guild in Salem, OR, she received training in sensory integration therapy. She continued to take classes for sensory integration (SI) while working on-call in hospitals, nursing homes, a hand-therapy clinic, and Portland public schools. She followed her passion for pediatrics to a private pediatric clinic, where she worked solely in sensory integration for the following 2 1/2 years, receiving top training from veteran OT's while continuing her education in pediatrics and SI. In November of 2007, Lisa left the private clinic to open her own, Pediatric Sensory Therapy (PST). PST officially opened its doors in December 2007 as Oregon's only Medicaid rate clinic. Lisa's vision is to provide quality occupational therapy that everyone can afford. By keeping costs low, all families, even those with limited insurance coverage, are able to bring their children in for quality and effective therapy.
Lisa specializes in Sensory Integration therapy & Primitive Reflex Integration, working with children experiencing autism spectrum disorders, sensory processing disorder, motor delays, neurologic, social and communication delays and behavioral problems. She also has experience working with the cerebral palsy, down syndrome, torticollis and genetic disorders populations. Lisa is trained in primitive reflex integration, Therapeutic Listening Program, DIR Floortime, Vestibular Rehabilitation, Therapeutic brushing, Brain Gym, Handle, Bal-a-Vis-X and many more therapeutic modalities.
Lisa is a member of the American Occupational Therapy Association, the Occupational Therapy Association of Oregon and has received numerous awards from the Cambridge Who's Who among American Women Entrepreneurs.
On a personal note, Lisa is a dedicated wife & mother to three boys (Zane, Luke and Ford) and three dogs. Aside from her love of pediatric occupational therapy, Lisa enjoys hiking, cooking and healthy eating, traveling when possible, especially to Juneau, Alaska, and movies on rainy nights with her family. She is a member of the Marylhurst Symphony Orchestra where she has played the violin since 2000.
Sally Stepath, PsyD, OTR/L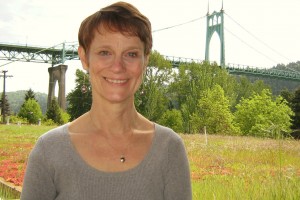 Sally Stepath, PsyD, OTR/L,  graduated from University of Illinois  in Occupational Therapy in 1982 and went right to work in the special education school system through a chapter 1 funded program going to several schools in the same year, including Lighthouse for the Blind, Rubloff UCP, Esperanza (a Waldorf school), and Misericordia, in Chicago.  She has worked with children diagnosed with autism, aspergers, down syndrome, cerebral palsy, hemiplegia, sensory processing disorder, and blindness.  Sally has worked as an occupational therapist full time in the Chicago Public Schools, and in several pediatric outpatient clinics including two years doing hippotherapy with young people on horseback.  She took time off from working with children in 1987 to go back to graduate school to get a doctorate in psychology, returning to work with children in 1997.
Sally's specialties include Sensory Integration therapy, Primitive Reflex Integration, Neuro-developmental Treatment (NDT) and Cranio-Sacral therapy, allowing her to work with children experiencing autism spectrum disorders, motor delays, cerebral palsy, sensory processing disorder, genetic and pervasive developmental disorders and behavioral challenges. She has completed a three year training course in fluid model Cranio-Sacral and also provides Cranio-Sacral treatment. Sally is trained in the Therapeutic Listening Program, therapeutic brushing technique and more.
Sally moved back to the Northwest where she was born, from the flatland of Illinois, to Portland in 2008.  In the Portland area, she has worked in early intervention (birth to three) and private pediatric clinics. She has been with PST since 2010 and has no plans to leave anytime soon.
In her spare time, Sally dances, does tai chi, rug hooking, takes banjo lessons, hikes and cross country skis. Sally has three grown sons who live in San Francisco, Seattle and Oakland, who she visits several times a year.  She lives in a 120 year old house with her kitty named Mij.
Kymberlee Sproule, COTA/L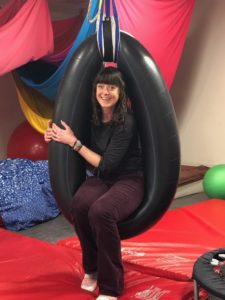 Kym quickly realized the therapy world was where she belonged after assisting in a therapeutic swimming program as a teenager. She completed her Occupational Therapy Assistant degree in Auburn, WA at Green River College in 2008, with magnum cum laude (4.0 GPA). She is currently earning her BA in psychology and human development from Portland State University. Kym regularly pursues continuing education courses relevant to current research in the neuroscience behind SPD and neurodevelopmental disorders.
Kym has over 10 years' experience as a Certified Occupational Therapy Assistant both in pediatrics and geriatrics.  As a COTA, she is responsible for collaborating with her fellow therapists and families, implementing the plan of care from the evaluation, modifying home exercise programs and performing necessary assessments to create the best possible experience for the child and families at Pediatric Sensory Therapy.
Kym has prior experience working with children of all ages in school districts both in Washington and Oregon.  She ran yoga classes for children over 5 years through her own business, Mindful Life Yoga for Kids, as well as MoveYoga, in after school programs throughout the Portland area. Kym's strengths and interests are in sensory processing disorders, primitive reflex integration, teaching children to calm their bodies, self-regulate and learn through movement and assisting children in accessing their world to the best of their abilities.
Kym enjoys being creative through painting, exploring nature, music, meditation, and yoga. She also looks forward to future travel and is hoping to adopt a French Bull dog to join her and her two cats named Pita and Lily.