An Affordable Therapy Option!
Pediatric Sensory Therapy offers discounted rates to any family with a financial need. You don't have to be at the poverty level to get help. This means that whether you have insurance or not, your co-pays or private pay rates will be the lowest throughout Oregon and SW Washington.  We established this policy to allow anyone the opportunity to access occupational therapy services for their child, on a budget that opens the doors to weekly and regular therapy.  Over the years, I found that the low-middle class often falls through the cracks.  The low-income can receive Medicaid, which pays for therapy.  The working low-middle class may have insurance, but the co-pays and deductibles can be too high, or the benefits too low.  By offering our services for discounted rates, we believe that opens our doors to everyone.  It is our mission to provide cost-effective quality therapy to all children with special needs.
Sensory-Motor Therapy Through Play!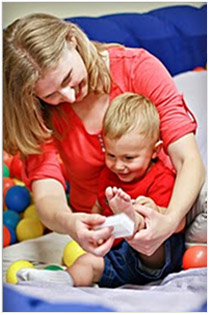 Pediatric Sensory Therapy (PST) is a private pediatric occupational therapy clinic specializing in Sensory Integration (SI) and primitive reflex integration. We serve families of children birth to 21+ who are experiencing developmental delays, neurologic, genetic or pervasive developmental disorders, sensory integrative dysfunction and behavioral or social concerns. We also offer life skills training for kiddos transitioning out of high school into college, work, or life. These services are covered through most insurance companies through age 24, and beyond if your child is on SSI or Medicare Part B.
Therapists at PST use play as the primary modality, as well as the Therapeutic Listening Program (TLP), Wilbarger Deep Pressure Proprioceptive Technique (DPPT), Vestibular Rehabilitation/Kawar Protocol, Brain Gym, HANDLE,  Bal-A-Vis-X , and DIR Floortime Techniques in therapy,  and much more!
Our focus on the sensory-motor system allows the child to build coordination and strength while integrating primitive reflexes and the sensory systems, as well as learning adaptation skills when faced with challenges, in multiple environments.
We accept MOST Insurances. Go to "About PST" to see a list of companies that we carry a contract with as a preferred provider.